2009年09月20日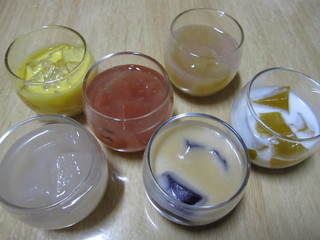 Went to Osaka to watch a stage performance of Adam Cooper today...but unfortunately I found the cost performance of the show was terribly bad!!
So, I wanted to treat disappointed myself with something nice...very good excuse to buy special sweets!
Just encountered this shop with beautiful collection of Warabi-Mochi (the sweet we eat on the arrival of Tawaraya, you remember?) with Souce at the basement of Hanshin Depertment Store. Bought 6 out of total 20 different tastes:
1) Tomato Warabi-Mochi with Basil Source
2) Purple Sweet Poteto with White Sesame
3) White Peach with White Wine
4) Plum with White Peach
5) Pumpkin with Soy Milk
6) Mango with Mango
Oh, you should have a look of this site!
http://www.patisserie-brothers.com/color/color-warabi/index.html
Also, I bought this beautiful roll cake, "Ebisu Roll"
The texture of sponge cake is fascinating! You can sense the expansive force of egg. And the cream is not sweet and the combination of it with the sponge is just like being in heaven! Yummy...
posted by Tohohon at 00:00| 兵庫 ☀|
Comment(1)
|
TrackBack(0)
|
Food
|

|